This is part three of Baltic Adventures. Part One captured the chaos of post-pandemic travel and our bonus tour of Amsterdam. Part two covered our four days in Finland. This part covers our time in Stockholm and Tallinn and the trip home.
We boarded our cruise line from Helsinki to Stockholm a little before 4 pm (about an hour and a half from departure time). Our family room consisted of four bunk beds. One of the beds was for seating. We were on board the Silja Symphony. Like more American cruises, it had lots of alcohol and entertainment/nightclub options. Like a ferry, it had a lot of commuters and even had a car deck.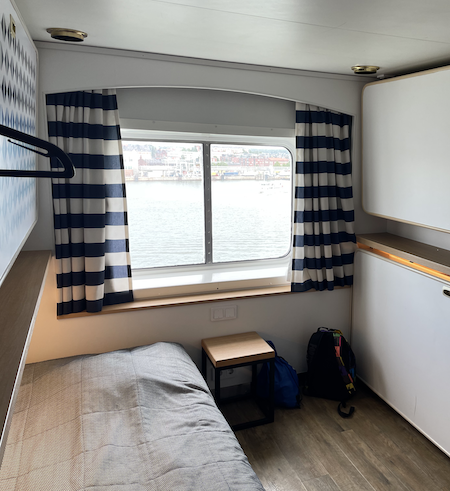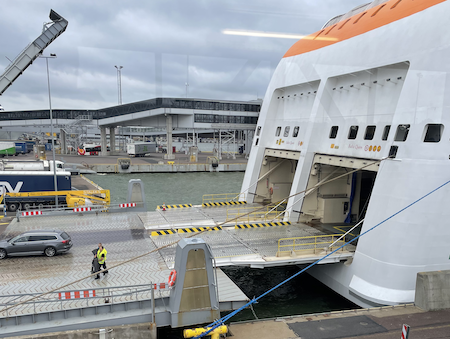 There were several onboard restaurants, and they had a buffet area on deck 6 across from the duty-free shopping mall. The trip was quite reasonable. For 222€ we had both transportation for three and a place to sleep. They make their money on food, drinks, and shopping. I recommend this (in summer) as a way to move around the Baltics. They have ferries from Helsinki, Stockholm, and Tallinn (plus maybe others). Download their app, and you can just scan to get your boarding passes that double your room keys. Your cabin number is assigned at check-in.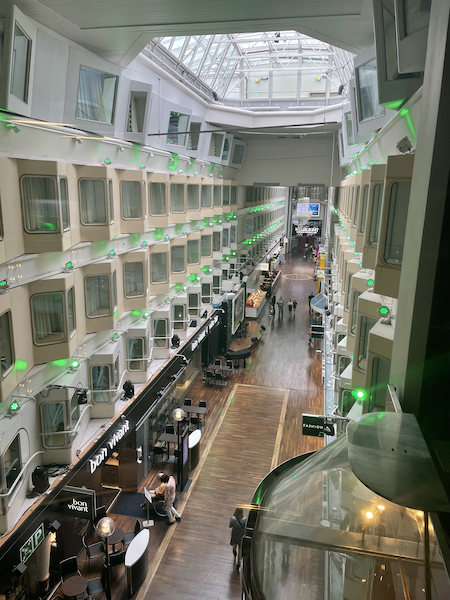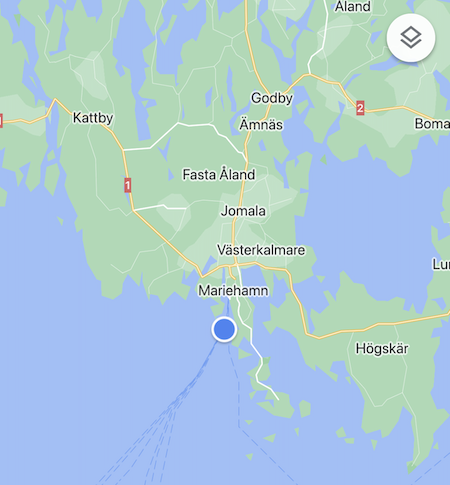 Arriving in Stockholm at around 10 am, we decided to get a 72-hour metro pass. It was a good hike from the terminal to the nearest metro station. The kid could ride free, so it cost us about 60SEK. We had a 400-year-old attic AirBnB in Gamla Stan (Old Town), and the metro had a stop a few hundred feet from our flat. We also did the city pass.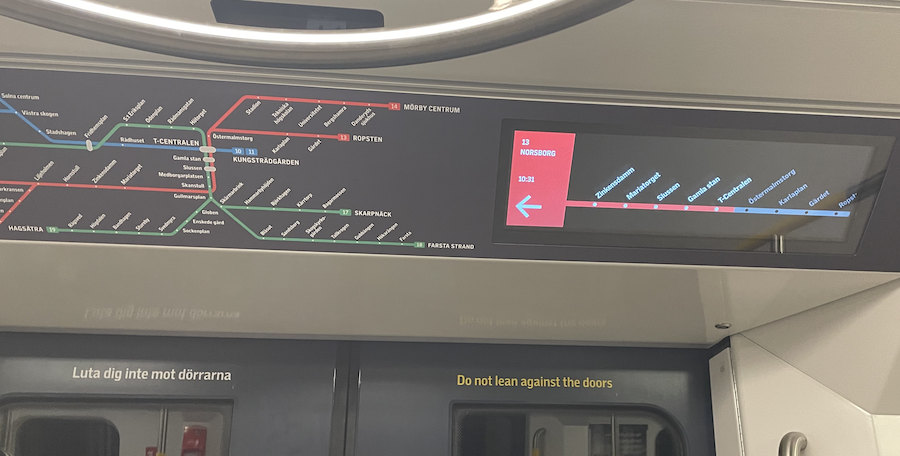 List of things we visited in Stockholm: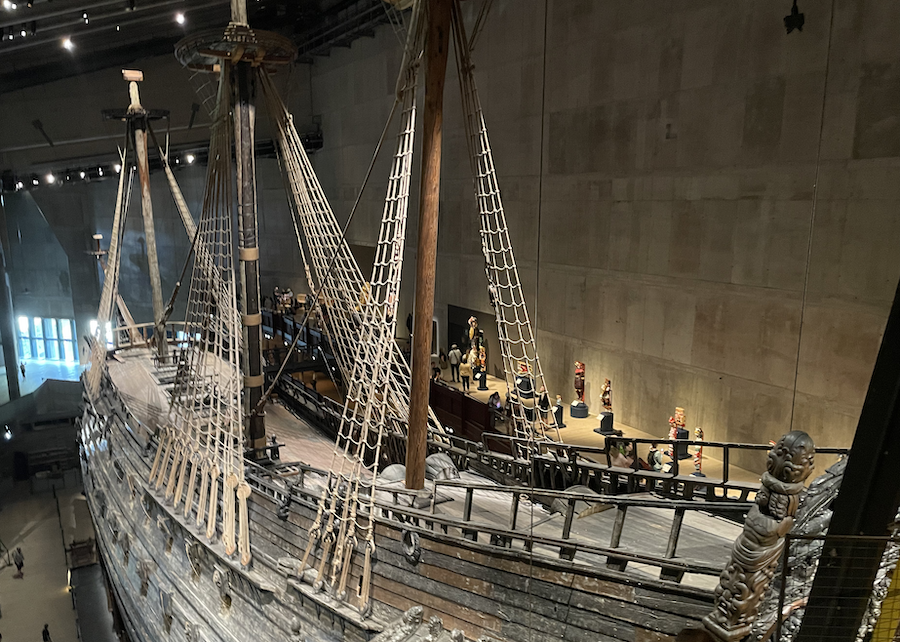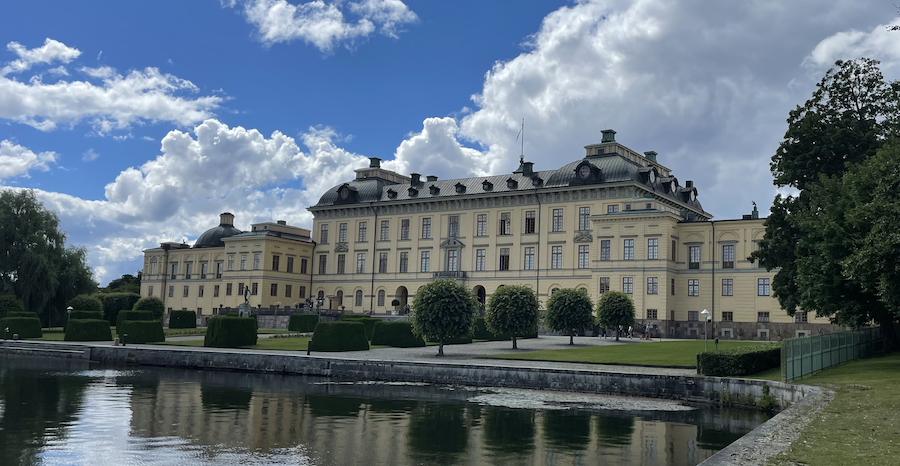 Getting from our flat in Gamla Stan to the museums on Djurgarden was easy. A ferry that runs between the two islands is part of the Stockholm metro system. We got the Stockholm City Pass which got us into all the places marked with an asterisk above.
Our flat in Gamla Stan was epic. It was an attic loft in a 400-year-old house. We were close to the midpoint of the trip, so it was time to do laundry. We managed to travel with two carry-on suitcases and three backpacks for the three of us, but we didn't bring enough clean clothes. We've done the AirBnB for laundry four times now. And every time we've done that in another country, we've had a heck of a time figuring out how the laundry machine worked.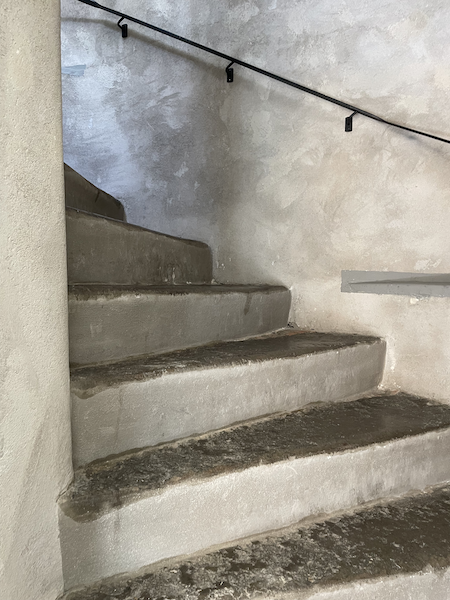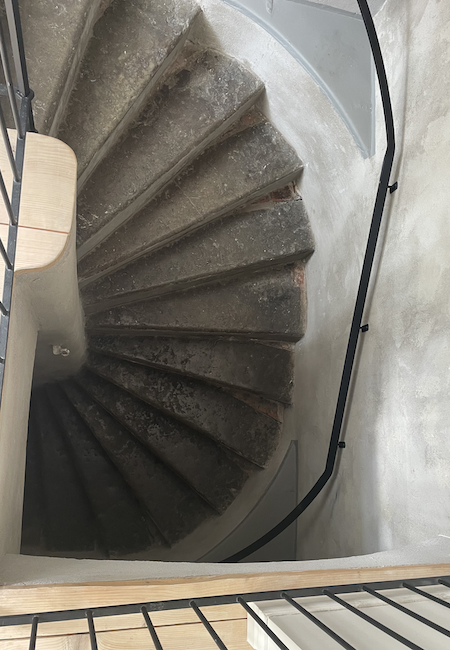 On our last day in Stockholm, we got an Uber from the edge of Gamla Stan to the ferry terminal, then took the metro to Drottningholm. Since we had the city pass, we could have gotten a free ticket to take the boat back to downtown. But I would have had to go to the kiosk in town before going out there. Instead, we paid the 448SEK we didn't need for a more scenic ride back. We got in one more canal boat ride before taking the 76 Bus to Värtahamnens färjeterminal.
The Baltic Queen to Tallinn is smaller than the Silja Symphony, but our room was nicer. Our cabin on the Silja had four beds; on the Baltic Queen, we had a sofa and two bunks. The sofa becomes a bed, so this room sleeps only three but is more functional.

Day 11 began with docking in Tallinn. Again, no passport or customs. Even though we didn't rush off the ship, it was easy to get a taxi to our hotel, which cost about 15€. This was the first hotel stay we had since we left Helsinki. Our Hilton Tallinn Park room was nice and on points.
We visited an old apartment building that became the headquarters for the provincial Estonian government after WWI and then became the offices of the NKVD after the Soviets occupied the country in WWII. We then walked around the Old Town for a bit before returning to the hotel. Work had caught up with me, and I needed to make a few calls. Plus, we were exhausted. After a good dinner at the hotel, a visit to a sauna and pool, and a negroni, we rested up for our final day.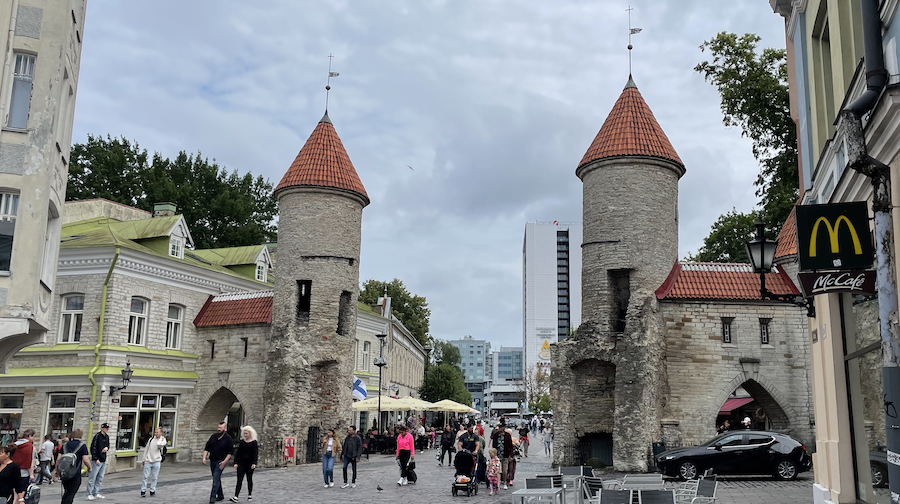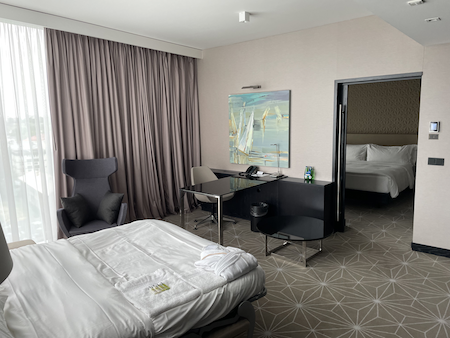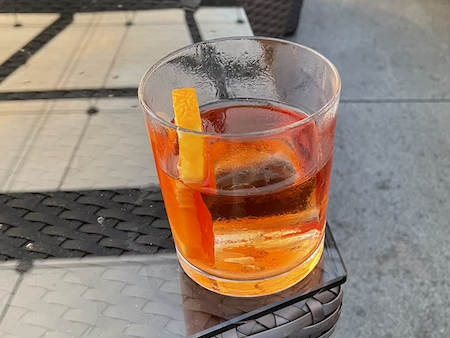 Our last day in Tallinn started with drama. Apparently, our flight from Tallinn to Amsterdam disappeared from our itinerary in the Delta App. My wife spent a good hour or so texting with Delta. We got it resolved, but we were suspicious about the whole thing, so we decided to head to the airport that afternoon to check-in. But first, we did more sightseeing in Old Town. We got the Tallinn Card which got us into many places in the city and access to their public transit system.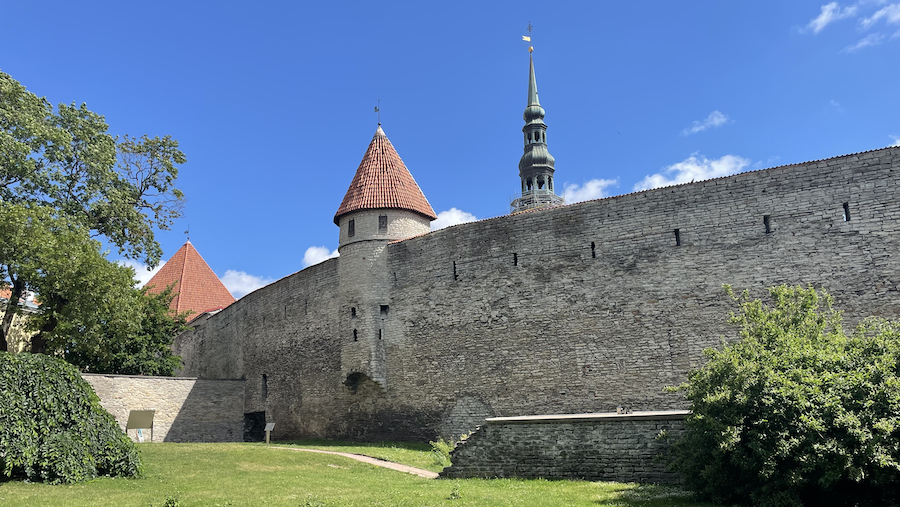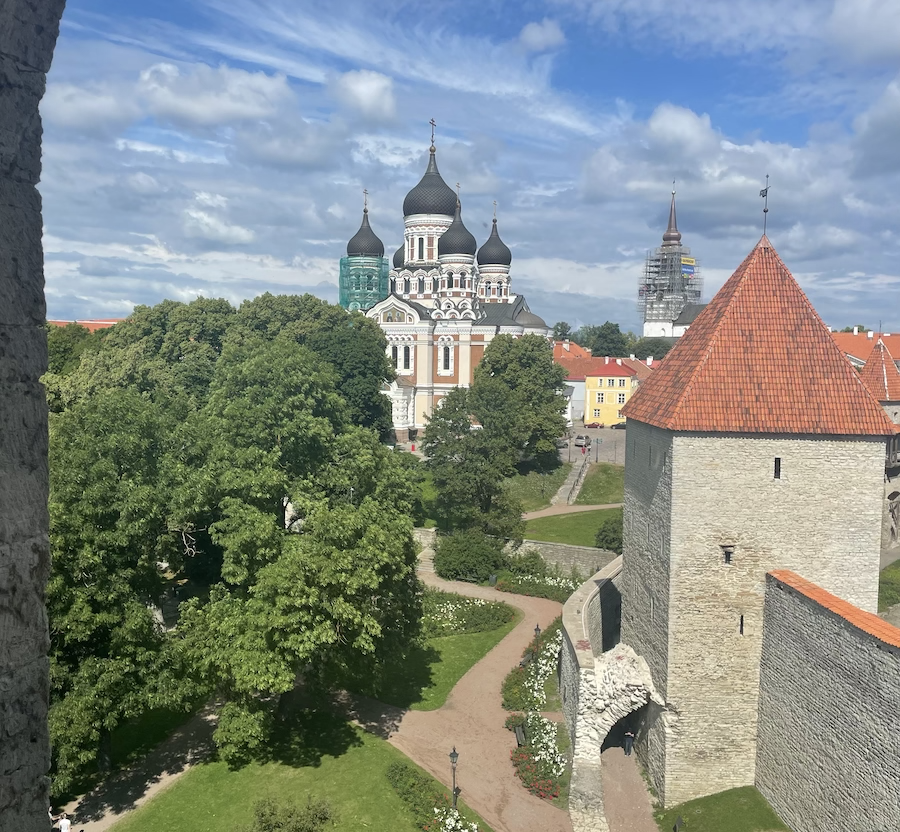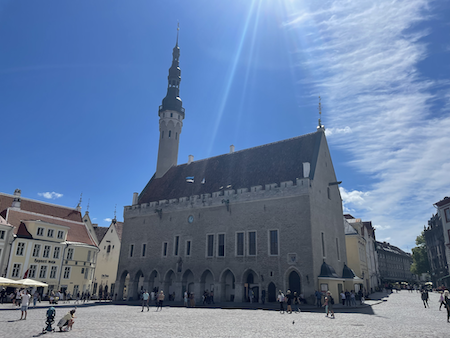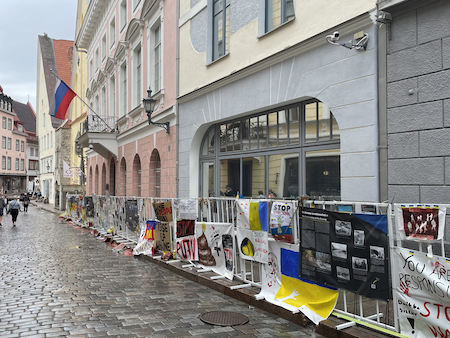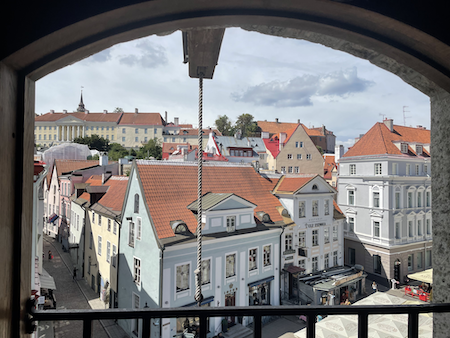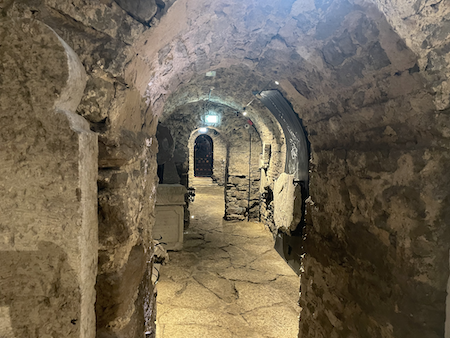 After the sightseeing, we took the tram to the airport to check-in. AirBaltic is our carrier from TLL to AMS. They have a different confirmation system, and to check in online, you need an AirBaltic code, not the one from Delta. Delta and AirBaltic need to get their computer systems in sync so passengers can do online check-in.
After getting our confirmation numbers, my kid and I were able to check in for our ArBaltic flight, but my wife had a different confirmation number and couldn't. So we returned to the hotel for one more sauna experience while enjoying the anxiety of "do we have a flight tomorrow?".
The following day we were up at 0430 EEST time to get to the airport 2 hours ahead to have time to deal with any issues. And there were none. We got our boarding passes for AirBaltic and our two Delta flights.
AirBaltic business class was empty except for us. Otherwise, it was the same as our KLM flight. Three by three, with middle seats not occupied and a nice meal.
Our flight arrived on time, and we had a few minutes in the KLM crown lounge before our flight boarded to Boston. I keep forgetting that you need to do a passport check at the gate when flying back into the US, so we had a bit of a hassle waiting in line to board. Our poor purser in Delta One was playing a lot of musical chairs with folks changing seats. I wanted to start playing Yakety Sax while she was moving people around. But that was fine and we all had time to enjoy a pre-flight drink before take off. The AMS->BOS flight went fine, and we got though Passport control in the US super fast. Thanks Chase Sapphire Reserve and your free Global Entry voucher.
The flight leaving Boston was delayed about an hour as the plane from MSP was running late. So we got to hang out at the Boston Logan SkyClub in A terminal satellite. Made it back to Atlanta for a Lyft home. We normally find it roughly the same price to part at the airport vs taking a Uber/Lyft, but for this longer trip the Lyft was more economical.
We got home and in bed around 9:30pm ET, which was exactly 24hrs from when we woke up in Tallinn.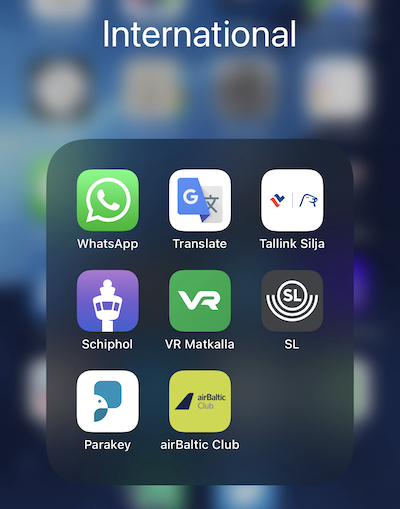 I got to install a bunch of new apps for this trip.
WhatsApp for talking to our hotel and excursions in Lappland.
Tallink Silja for checking in to the ferries, and other stuff
Schiphol for tracking the security lines and navigating that airport
VR Matkalla was the Finnish Train line to Rovaniemi and back
SL was the Stockholm Metro app, and useful to figure out how to get places
Parakey was used to unlock our AirBnB via NFC
airBaltic in the hopes of being able to check in online.
Other than WhatsApp and Google Translate, I'll probably never use any of these apps again, but they were invaluable for our trip.
And that's the highlights of our trip to the Baltics. I'll probably go back and do a post about our May 2022 trip to Yellowstone, and a post on our winter travel when we get that all settled.