This will be the first in a series of travel-related posts. I found a distinct lack of information on the internet about some specific logistical things around international travel. I hope these posts are useful to whoever finds them via some Google-fu.
This summer, myself, my wife, and the 10-year-old are on a three-country, four-city tour of the Baltics. We picked this itinerary because 1) we found a good price on Delta One, and 2) at the time we booked it, we wanted to visit some countries that geopolitical affairs might make impossible in the future. So we're going to Finland, Sweden, and Estonia!
Our original flight was direct Atlanta to Amsterdam to Helsinki, then back via Tallinn, Amsterdam, and Atlanta. When we decided to extend the time to include Sweden, we found it was almost $1000 cheaper per person to cancel the original flight and rebook with a layover in Boston. We now each have about a $960 Delta E-Credit.
Our Itinerary was bold:
| Date | Time | Activity |
| --- | --- | --- |
| July 2nd | 1:45pm ET | ATL->BOS in First Class |
| | 7:10pm ET | BOS->AMS is Delta One |
| July 3rd | 9:20am CEST | AMS->HEL in KLM Business Class |
| | 1:20pm EEST | Arrive Helsinki, check into hotel, Dinner then Crash |
| July 4th | | See Helsinki |
| July 5th | 10:00am EEST | Check out of Hotel, get a rental car, visit Porvoo and Porkkalanniemi Cliffs |
| | 7:29pm EEST | Overnight Train to Rovaniemi |
| July 6th | 7:29am EEST | Arrive at Rovaniemi, and check in to the Arctic TreeHouse Hotel |
| | 9:00am | Hiking tour of Korouoma national park and frozen waterfalls |
| July 7th | 9:00am | Sparkling Summer Amethyst Mine Visit |
| | 8:57pm EEST | Overnight Train to Helsinki |
| July 8th | 9:15am EEST | Arrive back in Helsinki, see more of the city |
| | 5:00pm EEST | Overnight Ferry to Stockholm |
| July 9th | 10:00 CEST | Arrive Stockholm: Vasa Museum, Viking Museum, check into AirBnb, Laundry! |
| July 10th | | REST DAY! |
| July 11th | | Checkout of AirBnB, do more things in Stockholm. Abba Museum |
| | 5:30pm CEST | Overnight Ferry to Tallinn Estonia |
| July 12th | 10:45am EEST | Arrive Tallinn, Drop bags at hotel, See Tallinn |
| July 13th | | More Tallinn |
| July 14th | 7:35 am EEST | Baltic Air Flight from Talin to AMS |
| | 11:20 am CEST | Delta One flight from AMS to Boston |
| | 3:05pm EDT | First Class Delta flight Boston to Atlanta |
| | 7pm (or so) EDT | Arrive Home, 20 hrs or so after waking up in Tallinn |
So to summarize, our sleeping arrangements were going to be: Plane, Hotel, Hotel, Train, Treehouse, Train, Boat, AirBnB, AirBnb, Boat, Hotel, Hotel, Home. I say "was going to be", because post-pandemic travel had other plans for us.
Part One of this blog series will cover getting to Finland, which was an adventure in and of itself. Part Two will be our time in Helsinki and Rovaniemi. Part Three will cover Stockholm, Tallinn, and the trip home.
Saving almost a thousand dollars by adding a layover in Boston seemed like an okay idea in March/April, but by the time the July 4th weekend rolled around, we figured we were going to have problems. Flight DAL572 and then DAL258 were the exact plane. So I figured I wouldn't have too much of a problem if our ATL->BOS leg were delayed, the flight to AMS probably wouldn't leave without our plane and us.
Since this was the first time my kid and I traveled on this passport (I had to renew mid-pandemic), we couldn't check-in online. So with all the media hysteria over travel issues, we got to ATL 3.5 hrs before our flight. There was no one in the international terminal, and we were through security in under 10min.
We then got to enjoy the Delta Sky Club in Terminal E. It was by far the best club we frequented on our outbound flights for food. They had a decent alcohol selection and a Taco Bar! Being Delta One, we didn't have much of a wait to board. The plane for DAL572 and DAL 258 had the Delta One Suites, So we had a nice ride on both flights.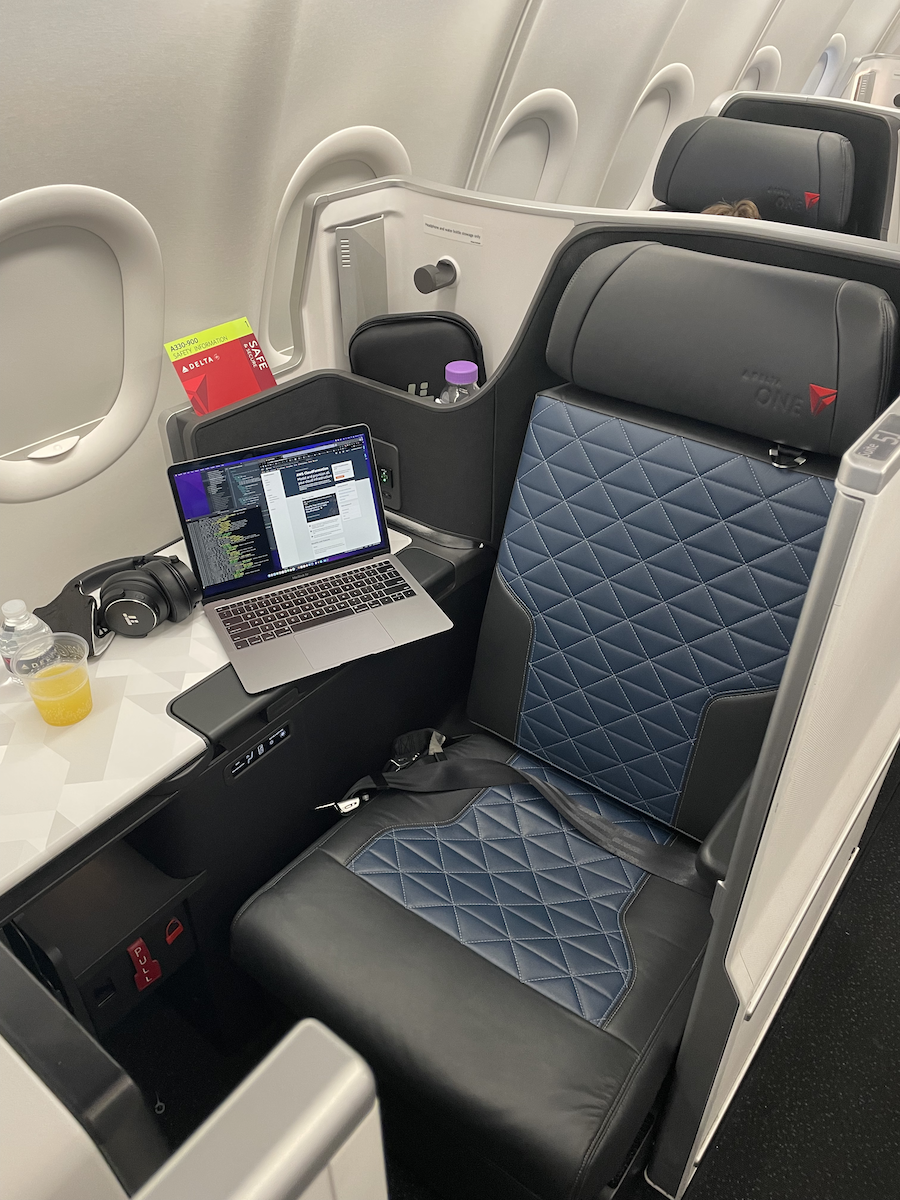 The flight to Boston was uneventful. In Boston Logan, Delta domestic arrivals come into Terminal A, and all international flights go out of Terminal E. Unlike Atlanta, there was no way to get from A to E without going outside security. To transit these terminals, you can take a city bus or cut through the parking garage. We chose the latter. We got to Terminal E in under 20 minutes, and there were zero people in line ahead of us at the TSA-Pre security line.
Having done my homework, I scouted out the lounges in Terminal E. Delta had no SkyClubs in Terminal E, but there were two candidates: Virgin Atlantic ClubHouse and the AirFrance Lounge. Having done the Virgin Atlantic clubs in Heathrow and LAX, I decided that was the one I wanted to try. I verified on their website that Delta One passengers were eligible, and we made our way over to E11. When we got there, we were told that the Virgin Atlantic club was only for Delta One flights to Heathrow, not any Delta One flights. Well then. Rather than arguing and showing them their website, we went to the AirFrance lounge.
Both the Virgin Atlantic and the AirFrance lounges were below the main level of Terminal E. The AirFrance lounge had no windows and low ceilings and was probably a mass-spreader event. The food was very meh, and the alcohol wasn't much better. If France had a Charles Shaw, that was what they were serving. We couldn't wait to get out of there. So we headed to the gate a bit early.
While the plane we flew to Boston on was the same plane we'd fly to Amsterdam Schiphol, the flight was delayed almost two hours because there was no one in Boston to tow the plane from A14 to E4. We made it from Terminal A to Terminal E in about 20 minutes, but it took our plane over four hours to make the same journey. By the time we took off, we knew we would miss our 9:40am connection to Helsinki.
The night flight was pleasant, which is an adjective you can only use when you have a lie-flat bed and some alcohol to put you to sleep. Everybody got about 4-5 hrs of sleep.
We got to the gate about 5 minutes before our flight to Helsinki was to depart. The staff onboard told us there would be someone at the gate to help us rebook our connections. We found no one.
Schiphol has been in the news the past few weeks as one of the airports with the worst set of delays and security lines due to covid and delayed covid rehiring. I suspect even if it were operating at 100%, it would be my new least-favorite airport.
Unlike US Airports, where you can usually find a general ticketing desk for the major airlines, there was none of that at Schiphol. They had Transfer Desks, which were automated kiosks. The kiosks were about as helpful as the Delta app in that it just redirected us to a human. There were no humans to be found anywhere near our terminal.
Not knowing what to expect, we started walking, hoping to find a KLM service desk. We eventually found a Transfer Desk with one attendant and a 60 to 90-minute line. My wife got in that line, and I went to scout further. That's when I came across the KLM Crown Lounge and went in to see if they had humans. They did! Delta One for the win.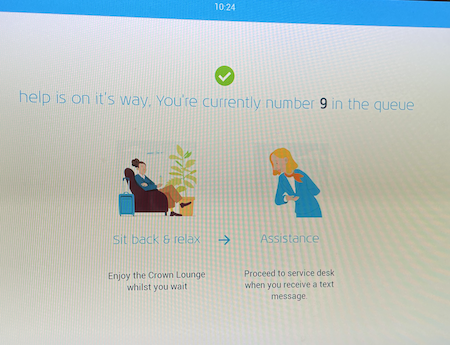 The KLM Crown Lounge 52 was very nice. They had lots of seating, fairly impressive bars (it was too early to drink), showers, and a quiet room. They also had a crew of really helpful KLM booking agents.
As was expected, we missed our flights, and there weren't any seats on the other two flights to Helsinki that day. We got on the first available flight at 2 pm the next day. They only had two Business Class seats and one coach, but the coach seat was right behind the kid, so he wouldn't be off by himself. KLM also gave us a hotel voucher, shuttle vouchers, and 15€ in food credits for each of us. Our KLM agent was clearly tired but super helpful and friendly. I cannot complement KLM enough for how they fixed what Boston screwed up.
So our four-city, three-country vacation suddenly became a five-city, four-country vacation as we had a few hours to explore Amsterdam. We went down to the city center (the Dam), walked around the shops, ate some Stroopwaffels, took a canal tour, then went back to our hotel room to crash. The Uber to the city center from the hotel airport was 50€ each way. English was incredibly common throughout the city.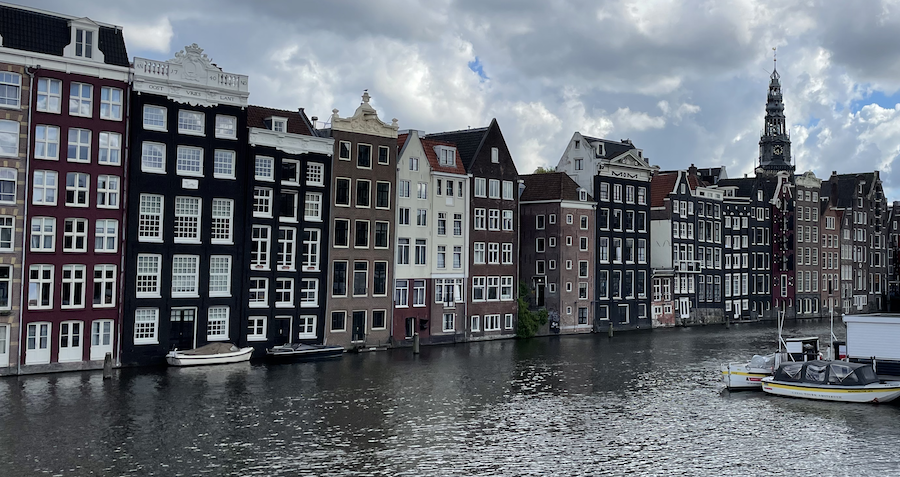 Due to the delays at Schiphol, we decided to leave at 10 am for our 2 pm flight, and booked a shuttle for that time. Unfortunately, we didn't set an alarm. I woke up at 9:55, and we had a panic rush to get downstairs to miss our shuttle. No breakfast, no shower, clothes from the day before. We got on the next shuttle about 20min later and were at the airport by about 10:45. As expected, the security lines were insane, snaking all around the terminal and outside the airport. Again Delta One for the win; we found the SkyPriority check-in, confirmed what we had were boarding passes (those words were not printed on there anywhere), and got into the SkyPriority security line, which still took about 30 or so minutes.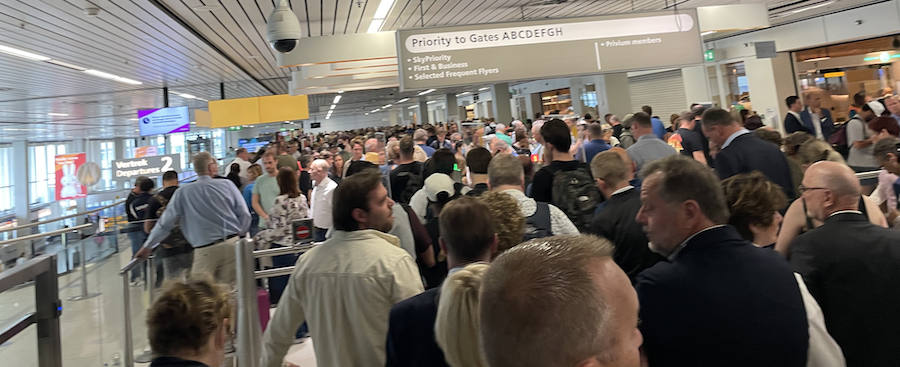 Having gone through immigration to enter Amsterdam, we ended up at the Schengen area KLM lounge 25 (not lounge 52, the numbers played havoc with my dyslexia). That lounge was slightly smaller. But it still had some ok food and comfortable and quiet seats. I finally got my first coffee of the day. Best of all, the KLM attendant was able to get us all upgraded to Business Class, so the kid and I would be sitting together.
We got to the gate just in time to see a 20min delay. Boarding went smoothly. The Kid and I both had bulkhead seats. All the overheads on this flight were reserved for crew or emergency equipment, but we found space for all our bags two rows back.
We had a small scare when the pilot came on to tell us there was an issue with a brake indicator. The technician had been called, but the pilot told us if the plane wasn't safe to fly, they might have to cancel the flight! At this point, I started looking at flights directly to Rovaniemi which was where day five was supposed to begin. After what seemed like a very serious conversation between the pilot and tech in Dutch, the pilot announced we were clear to fly, and we took off.
KLM's European business class is different from US First Class. The seats are all 3-by-3, but the middle seats are not occupied. We were offered a nice box lunch of smoked salmon salad, chocolate mousse, and a selection of bread.
Arrival in Helsinki was weird. I had no idea what to expect flying from one Schengen Area country to another as an American. Would we do passport control in each country? Once we're in, was it like interstate US travel?
Turns out we just walked out of the Helsinki Airport and into a cab to our hotel. We finally made it to Helsinki 28 hours late.
Part Two has our time in Finland, Part Three is Stockholm and Tallinn.