For MLK weekend, Leo and I made a quick trip to LA. My primary reason was to conduct a quick site survey of Anaheim for fwd:cloudsec 2023. I bribed Leo to come along by promising a day at Disneyland.
This is the story of how I spent $2621 to ride Rise of the Resistance.
Getting there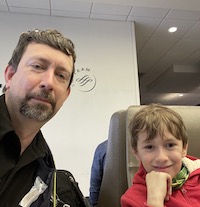 We had a Delta Companion Pass that would expire at the end of the month, so Leo's airline ticket cost me $29. My flight was $628. We got lucky and got a Delta Comfort+ upgrade on the way out, so we got to sit in Delta Premium Select seats. That helped make the two hours stuck on the runway in Atlanta because Delta had to "load cargo" somewhat more palatable. That said, unless it's a live organ for transplant or a fallen service member, there is no excuse to make a plane full of passengers wait for some Delta Dash. Do better, Delta.
I've flown in and out of LAX many times over the last 20 years; however, this time, everything was different. I'm not sure whatever happened to Ford's bar and the really awesome Bacon Bloody Mary, but there was no sign of it near the Delta terminal anymore.
Because I was planning to drive around a bit, I got a car. I hate getting a car at LAX. I hated it when I would fly out to visit Warner Bros., and it's still a crap experience. I went with Hertz, and it took about 45 minutes for the Hertz bus to arrive. Plenty of Avis and Enterprise buses, just no Hertz. Getting from Terminal 2 to the car rental was another 30 minutes of traffic as the bus stopped at all the other terminals. I can't fault Hertz for that, but I do fault LAX. It's been 20 years, and they're finally working on a light rail to get to the rental car lots.
When we finally get to the lot, they don't have any F%$#*ng cars! Yup, We waited another 20 minutes to get a car and then to get a car seat that wasn't sopping wet! I'm not saying I'm never using Hertz again. I am saying I'm never using Hertz at LAX again. My next trip will be fwd:cloudsec and AWS re:Inforce, so it will be Uber's the whole trip.
We got to the hotel at 11 pm PT, which was way too late for Leo and not awesome for me either.
Anaheim.
I don't have much to say about Anaheim. We went on the weekend when LA was getting biblical (for them) floods, and I think other parts of CA were getting washed out to sea. Other than visiting three hotels as possible venues for fwd:cloudsec, we chilled out at the hotel. I will call out NOVA Kitchen & Bar as a great place to get Sushi (which, amazingly, Leo likes).
Disneyland
Other than arriving at the hotel at 2 am ET, we mostly stayed on eastern time. Which was good because we were up at 5:30 PT on Sunday to get breakfast and head to Disneyland. We (and by that, I mean I) had a plan:
Be the first one in the park
Immediately by a Lightning Lane pass for Rise of the Resistance
Figure out everything else after that.
Everyone I know who went to do Rise has done it at Disney World. Like many concerts, I was told it sells out each day at 7 am. I didn't fly across the country and spend an absurd amount of money on tickets to miss this.
Anaheim has a bus service that costs $6 per day per person. It had a stop right outside our hotel, so it made sense to do that rather than pay for parking.
Having only a single data point, I cannot tell if it was just the differences between Disneyland and Disney World, or if it was the rain or the time of the year, or what, but the park wasn't that crowded, and we got a 10 am Lightning Lane pass.
Arrived at the park at about 6:30 am.
Got through security: 7:21 am.
Got into the park: 7:30 am PT.
Booked Rise: 7:31 am PT.
Disney's crazy booking system.
There are a few ways to avoid the lines at their parks. Above and beyond their $165 park fees, you can also buy the "Genie+" service, which allows you to do "call ahead seating" for one ride with an hour's arrival window. Genie+ doesn't work for Rise, so I had to buy another $50 upcharge to get a reservation.
Anyway, when we got our Lightning Lane for Rise, we then booked a Genie for the Smuggler's Run. We rode that twice (once reserved and once as a standby), then booked it over to Rise.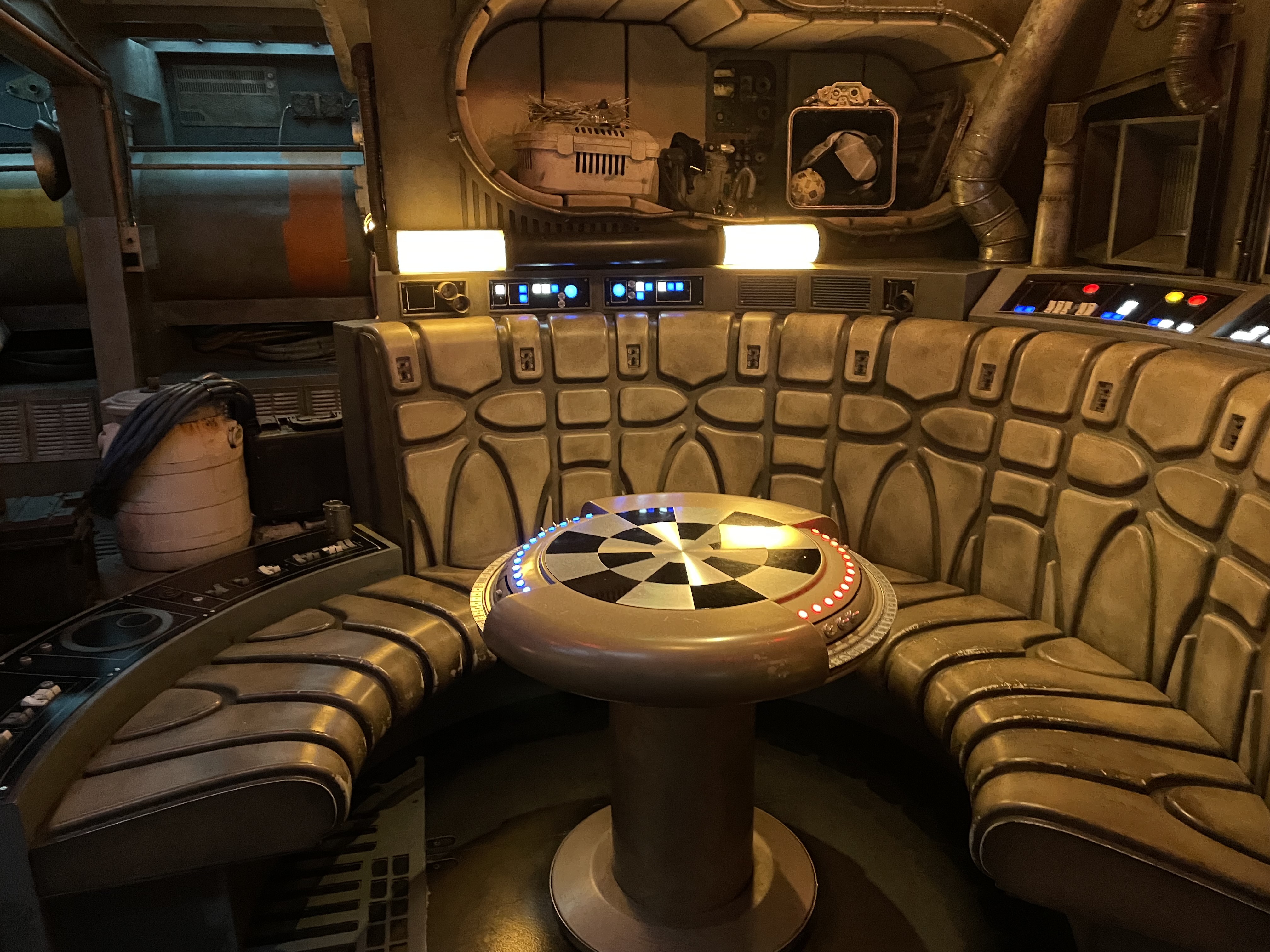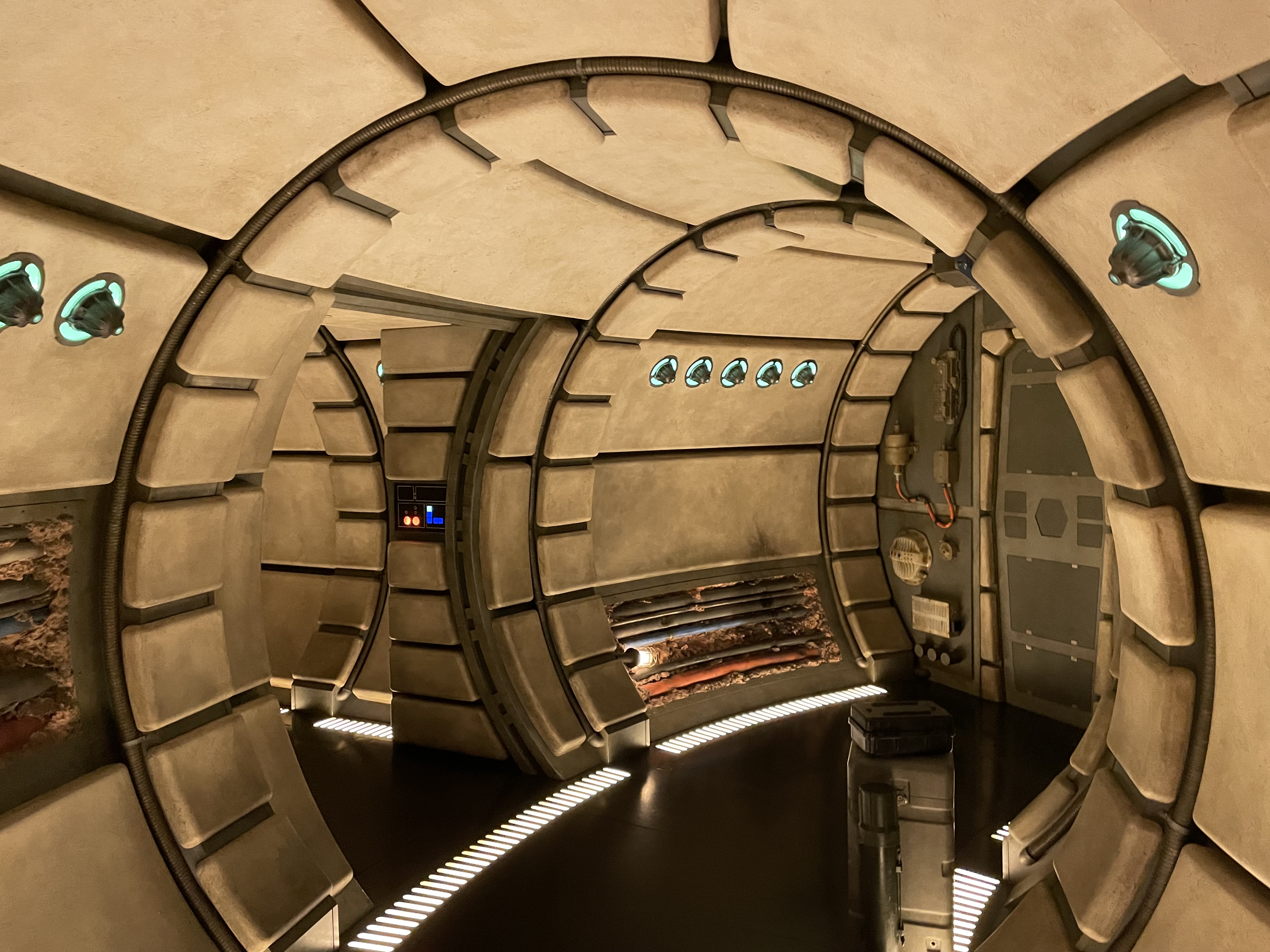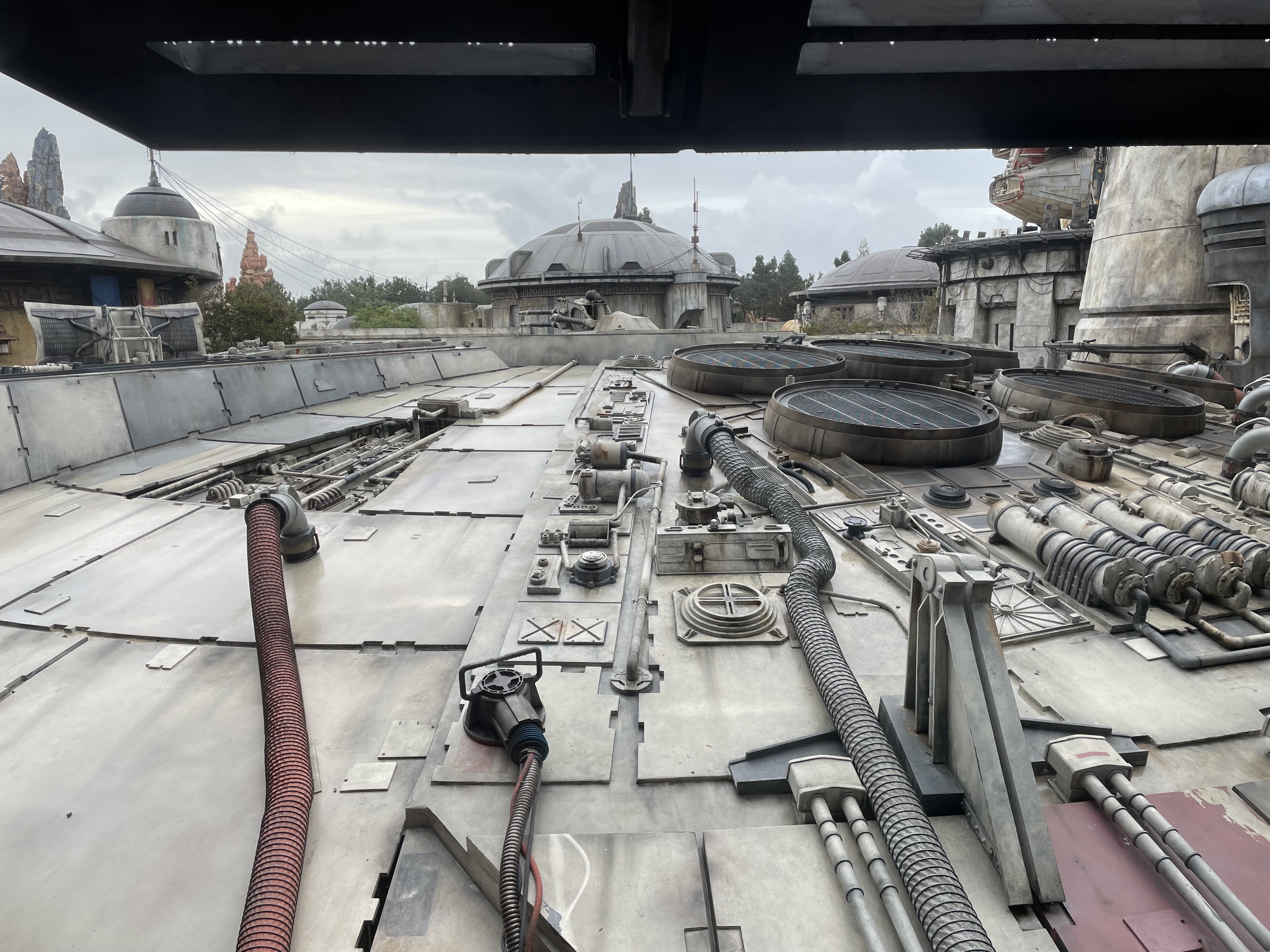 Rise of the Resistance
It was an impressively immersive experience. You start on a transport. You then end up "getting captured" and end up in Imperial/First Order custody. The cast members queuing the passengers were doing a great job of being both friendly Disney people and mean First Order officers. The FX on the second part were very impressive - the ride wasn't wild, but it had its moments as your "escape ship" was fired on, force captured by Kylo Ren, and eventually crash-landed on a friendly planet. In between, they got the cast of the last three movies to record their parts. I couldn't help but wonder what Disney paid to get Daisy Ridley, John Boyega, Oscar Isaac, and Domhnall Gleeson to don their costumes and record half a dozen lines.
Leo and I thought it was an awesome ride, but it was not worth waiting 90 minutes to ride it again.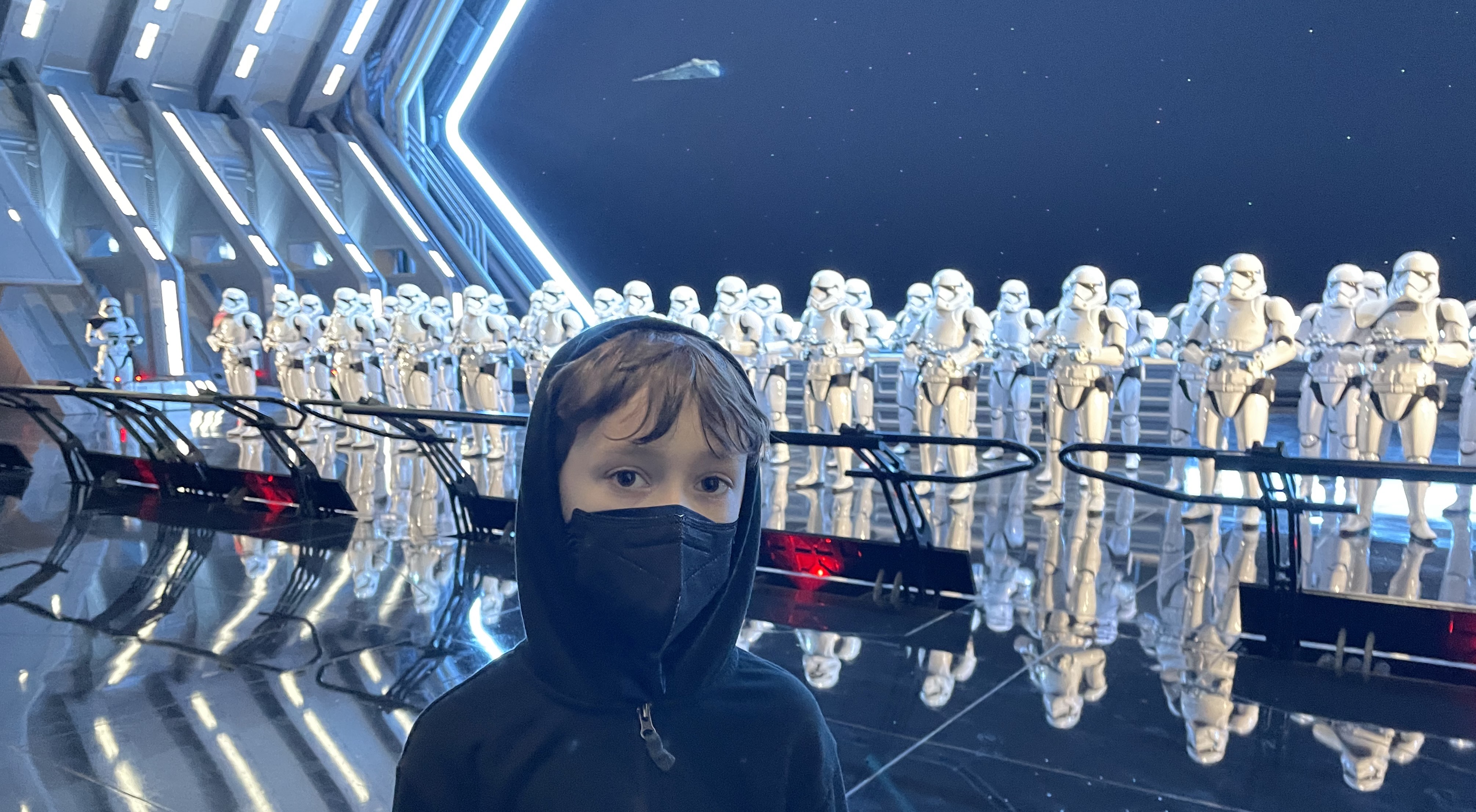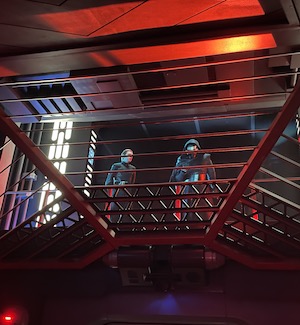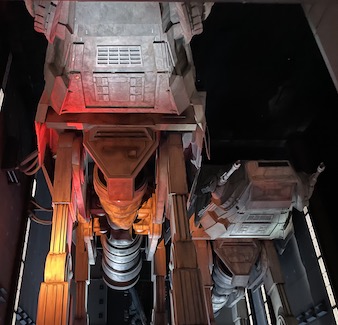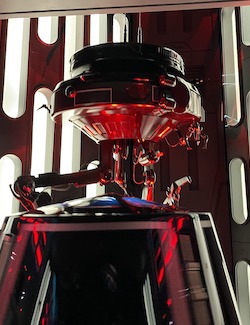 The rest of Disneyland
I'm not sure any of the other rides were super memorable. Surprisingly, Leo wanted to do the Haunted Mansion, so we did a Genie for that. I guess he didn't remember doing it in 2017 at Disney World. Apparently, Disney owns the rights to Nightmare before Christmas and shuts the ride down twice a year to make it a Haunted Mansion Holiday. I objected to the alteration of this classic. Get off my lawn.
We did a few more rides, looked at buying some overpriced Lightsaber replicas, and then wandered over to a very dated Tomorrowland to ride Space Mountain and Star Tours. Note to parents with bad memories: Space Mountain is not the tame sciencey ride from Epcot Center. It's an indoor, lights-out rollercoaster. It was also Leo's second most traumatic event of the day.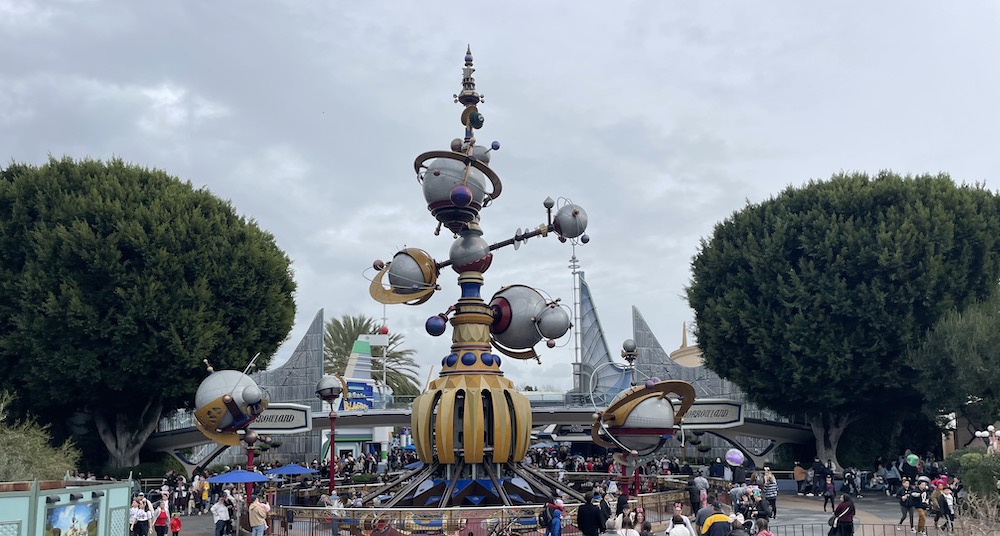 Disney California Adventure Park
Disneyland is actually two parks: Disneyland Park is the older one that has the traditional stuff and the new Galaxy's Edge Star Wars area, and then Disney California Adventure Park, which has a few other rides, and the Marvel / Avengers campus. A ticket to one is not a ticket to another unless you pay another $65 per ticket to get a Park Hopper pass. Which, of course, I did.
We rode three rides at California Adventure. We got a Genie pass for the Guardians of the Galaxy ride (which I heard was very popular). We also got lucky and got in a reasonably short standby line for the WEB SLINGERS: A Spider-Man Adventure ride.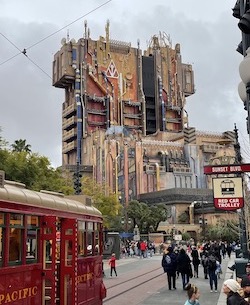 Leo really enjoyed that, and it was one of two standby lines he was willing to stand in.
The other ride we did in the Avengers Campus was Guardians of the Galaxy - Mission: BREAKOUT This was Leo's most traumatic experience of the day, and frankly, for me too. To say "Big Drops" is to understate this ride. As best I can tell you're catapulted 5-6 stories up to freefall back down several times. Not knowing what to expect (because, as I said, I didn't plan anything after Rise), we both panicked at the first free fall, and I again must apologize to the person next to me whose leg I grabbed looking for the oh-shit handle next to me.
After Guardians, we took a break, got some sugary stuff, and rested. Our last Genie of the day was about an hour after Guardians, so we walked the park. The last ride was pretty tame but very immersive - Soarin' Around the World. It took a lot of coaxing to get Leo to trust me that this ride was fine.
We left the park at about 4:30 pm PT, returned to the hotel, relaxed for a bit, then had an Outback Steak dinner (his choice) and an incredible Italian Ice from Joe's Italian Ice & Ice Cream. I will be visiting them again when I return in June.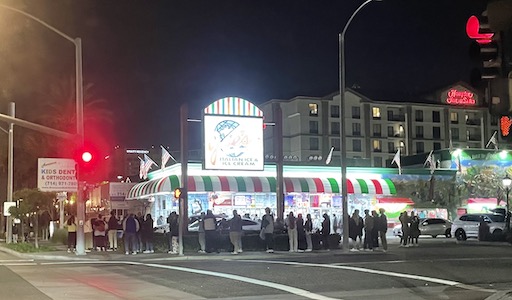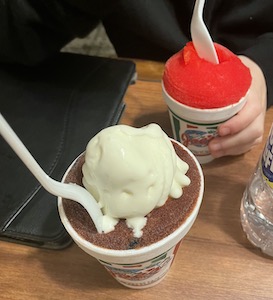 Getting Home
Our flight was at 8 am. Anaheim was at least an hour away from LAX, and after the cluster-f–k that Hertz was, I wanted to leave plenty of time before boarding. So we were up at 4:15 am PT, ate some leftover pizza I stashed in the hotel fridge, and got on the road. Hertz was again a total cluster. This time they had too many cars and didn't have space to put them. We managed to get the last bus that would be able to navigate the parking lot and got to Terminal 3 in a reasonable amount of time.
Since our plane flew in from Sydney the day before, it was at one of the new international gates. Either I navigated LAX poorly, or these gates aren't well connected, because we ended up going what looked like a side maintenance door, down to the tarmac, to get on a bus, to get delivered to another part of LAX that looked like a scene from The Langoliers. Luckily, once we got upstairs, there were a few open stores, and I was able to secure coffee.
We did not get upgraded on the flight home, and because I booked this whole thing after we got home from Morocco, the only seats we could find were in the back of the plane. I almost always get at least a Comfort+ upgrade or can sit in the exit row, so this was the first time in a while I had to sit in a tiny seat. I timed it too. Sitting in the second to last row on the plane's right side, I clocked exactly 16 minutes from the seat-belts sign getting switched off to getting off the plane.
What it all cost
| Description | Amount |
| --- | --- |
| Airfare | $627.80 |
| Companion Pass Fees | $29.80 |
| Disneyland Tickets (1-Day Tier 5 Park Hopper with Disney Genie+ Service) | $518.00 |
| Delta Snack Box | $12.00 |
| Lunch | $17.47 |
| Dinner: Nova Kitchen & Bar | $92.00 |
| Anaheim Transit | $12.00 |
| Disney - Ice Cream | $12.91 |
| Disney - Popcorn | $5.50 |
| Post-traumatic ride refresher - Pym Tasting Lab | $27.47 |
| Disney - Lunch (Turkey leg & drinks) | $25.18 |
| Rise of the Resistance Lightening Lane | $50.00 |
| Joe's Italian Ice | $14.70 |
| Dinner: Outback | $58.64 |
| ATL Airport Parking | $48.00 |
| Hotel (3 nights) | $801.83 |
| Hertz Car Rental | $264.60 |
| LAX - Coffee | $5.48 |
| 20% In-Flight Savings for Delta SkyMiles (Snack box) | -$2.40 |
| | |
| Total | $2,620.98 |