Our final trip this year was to Morocco. We flew AirFrance from ATL to CDG, then from CDG to Marrakech. In Morocco, we spent two days in Marrakech, took the train to Tangier, then a Grand Taxi to Chefchaouen for an overnight, then back to Tangier and Casablanca. Our flight home had an 18-hour layover in Paris, so we also got a little bit of sightseeing there.
Many blogs talk about backpacking or visiting Morocco, but they always leave out a few practical details that I wish I'd known before leaving.
Voyage to Morocco
Unlike our trip to Finland, we flew direct from Atlanta to Europe this time. Our flight was in Air France business class and was about 8 hours. We chose this flight 1) because it was cheap and 2) we wanted to try out the business class service on other SkyTeam airlines.
Air France Business Class
I appreciated that the Delta confirmation code in the Delta app allowed us to find our flight on the AirFrance website. That allowed us to pre-select our onboard meal and would have let us change our seats if we needed to.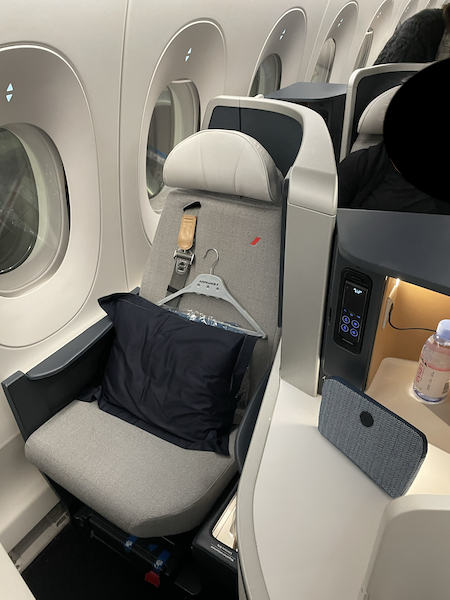 The seats in business class were slightly smaller than the Delta One Suites we took to Amsterdam. The meal was excellent, and the wine choices were superb. The entertainment screen was nicer than on Delta, and I really liked the cameras mounted on the bottom of the plane looking forward and aft. The only complaint about the flight was the meal was served in courses which ate into the time we had to sleep. Meal service took about two hours. Delta had the option to have the meal served all at once, but that wasn't available on the Air France website.
Transiting via Charles DeGaulle (CDG)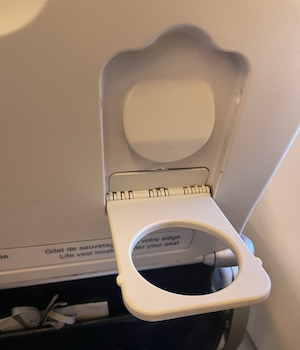 On arrival at CDG, we had to clear airport security again before getting to the next terminal and our connection to Marrakech. Even though we landed and departed from Terminal 2, our arrival was at 2L, and our departure was at 2K, so we had to get on a tram. I can see why folks don't like CDG, but being based in ATL, I'm used to hopping a train to get between terminals.
For our flight to Marrakech, our seats were in European Business which, like our summer trip, was US Domestic Seating with the middle seat left unsold. In my unscientific measurement, the AirFrance European Business had the same level of legroom as US economy class, which was a disappointment. I'm glad I could shove my bag under the empty middle seat. KLM's European Business was much nicer.
I expected they'd announce boarding by zones, but at some point, people just started queuing in a single line, so we joined them. We were one of the last to board, yet we still had room for our two carry-on bags in the overhead compartment.
The meal on the flight was unremarkable. Having only gotten about four hours of sleep on the flight to CDG, I caught another hour and a half or so on this flight.
Arrival in Morocco.
We landed in Marrakech right on schedule at 1525. As usual, my phone took a good 20 minutes and two reboots to discover there were other networks T-Mobile was affiliated with and to sync with them. We hit the restroom, were last in line at immigration, then got in the slowest line at the money changing station.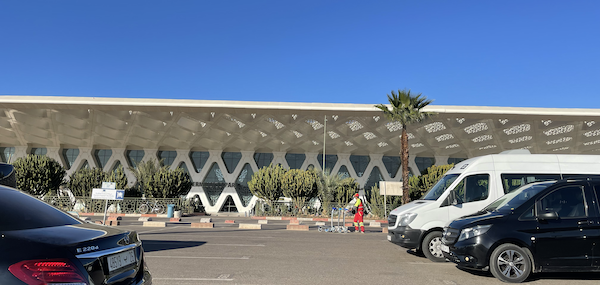 A few observations for anyone flying into Marrakech:
If you're landing in Marrakech and looking for a SIM Card, there are two stalls selling them. If you're looking for Moroccan Dirham (MAD), there was only one money exchange station. Unlike most other places I've been, there were no ATMs where I could get local currency (we did find a Société Générale ATM in our hotel in Casablanca). The money exchange station did take ATM cards, so I didn't have to convert USD or EURs. We got about 4,000MAD (~$400US - FIXME). The MAD to the USD exchange rate isn't exactly ten-to-one, but it's close enough that I could estimate costs in my head.
Having used Airalo in Kuala Lumpur, I got a one-week, 1GB ESIM for Morocco. Having higher speeds came in handy when using Google Maps. I had to re-up and get another 1GB during our fiasco in Tangier.
We arranged transport from the airport via our hotel. It cost us about 220 MAD (~$20US). Our gracious petit taxi driver was waiting for us for an hour (I had hoped when we said we landed at 1525 they'd know to adjust for these things). It was a good 20-minute drive to our Riad inside the old city walls. Our Taxi couldn't navigate the last 50 meters, so the hotel proprietor met us and escorted us the rest of the way.
Lost in Marrakech
We stayed at a Riad, which is a traditional style house with all the rooms facing a courtyard. We were greeted with a traditional mint tea. The place was charming, and the staff was super friendly and helpful. However, staying at a Riad does require putting aside some American expectations. Our room was the width of our queen bed plus 4 inches on each side. There was no chair in our room, but plenty of comfortable seating in the common areas. As we were in Marrakech in December, it got pretty cold at night (46F). The room didn't have heat, but we were prepared with warm pajamas and enough blankets to still be comfortable.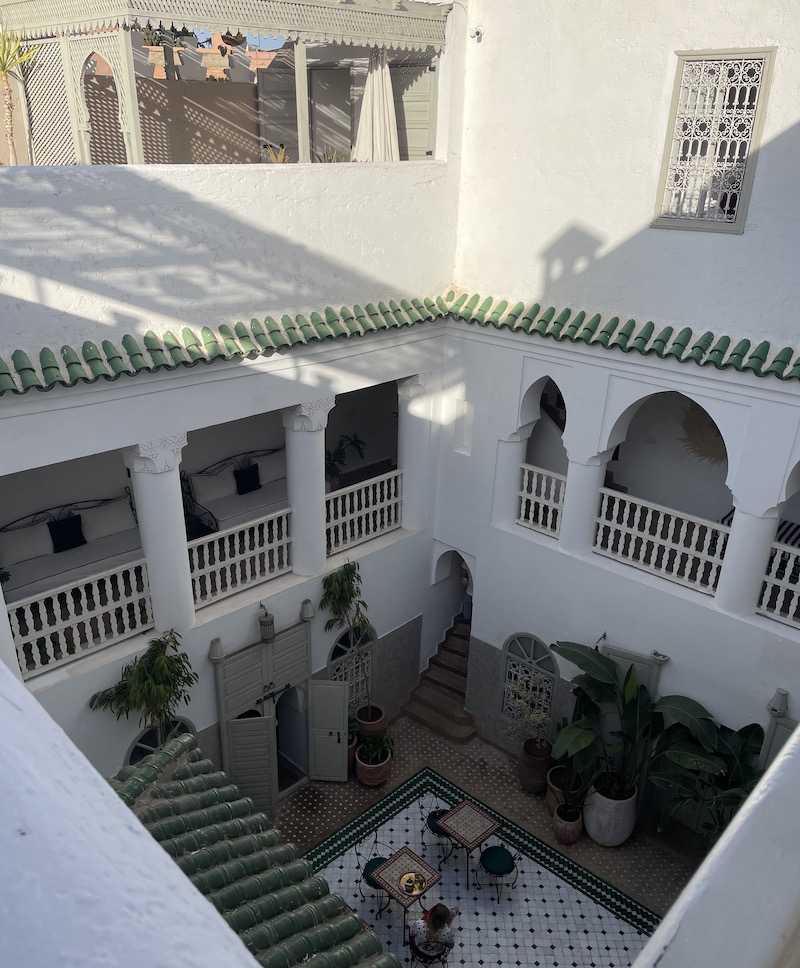 Our Riad was on the north side of the old part of Marrakech, which was a good 15-minute walk from the Souks (markets) and the medina (old part of town). Getting around Marrakech on foot was an adventure. We got lost every time we ventured out. We were warned about scammers offering to help us with directions and demanding a large payment, so I decided not to pull out my tourist map but rather rely on google maps. That usually made us look less like a tourist, but Google maps could do a better job figuring out which direction we're facing when we start navigation.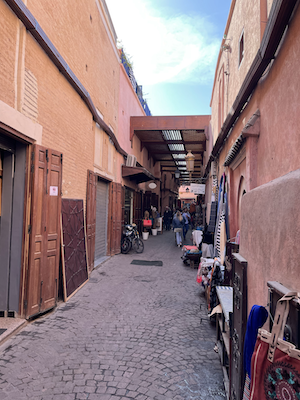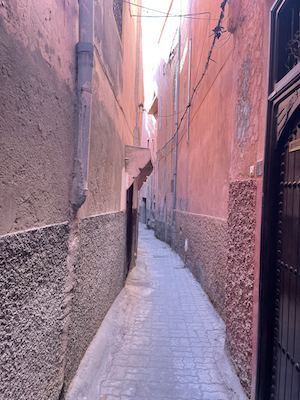 While I was on constant guard for a scam, it's important to say I never felt unsafe. And we wandered down some pretty sketch residential alleys (or I'd describe them as sketch if they were in the US).
On our first night, we ate at the riad and had a delicious Tagine with figs, dates, apricots, and lamb. Lunch and dinner on the second day were at rooftop restaurants in the old part of the city.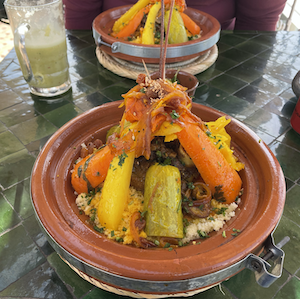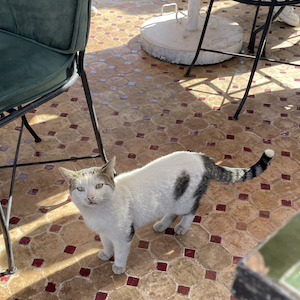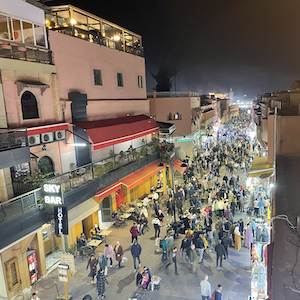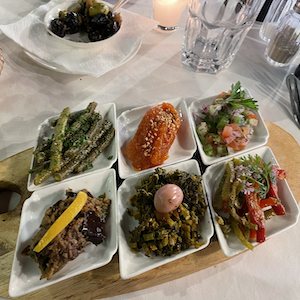 There are a large number of mosques in the old part of the city, and the morning call-to-prayer sounded like an exotic game of Marco Polo as the nearby mosque would transmit their call, and then a mosque further away would transmit theirs.
Transit to Tangier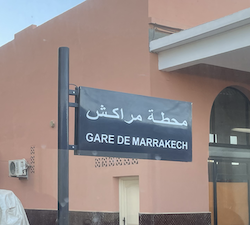 Day three in Morocco has us taking the train from Marrakech to Casablanca, then Africa's only high-speed rail from Casablanca through Rabat (the capital) to Tangier, where we stayed in an Airbnb. Our riad in Marrakech arranged the taxi to the train station for 80 Dirham.
We pre-purchased our tickets via RailNinja, as the ONCF website was only available in Morocco. And when I say not available, I mean it literally doesn't respond. Not even a redirect saying it wasn't available outside of Morocco. RailNinja sent us the e-tickets, which did not need to be exchanged at the train station. The conductor was able to scan the QR code. We didn't get adjoining seats, but we were able to switch with other folks. The Al Atlas from Marrakech to Casablanca was full in our first-class train car, so I'm glad I pre-purchased the tickets.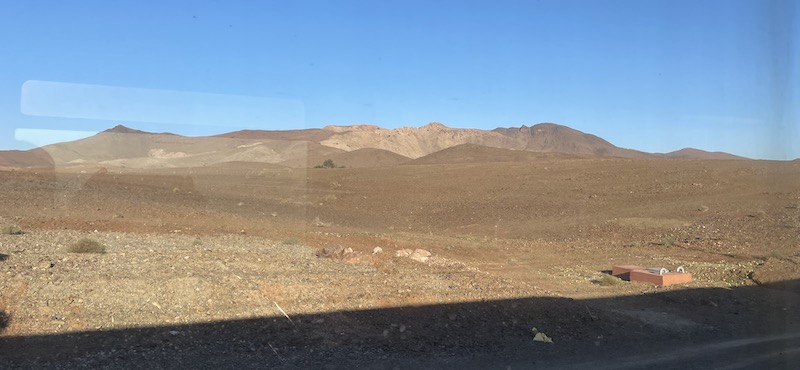 While we didn't partake in getting breakfast at the Marrakech train station, it had a number of western options, including a McDonald's, Starbucks, and other food.
My wife and I were burned once by the Italian rail line from Naples to Rome being delayed 4-6 hours, so I was worried a delay on the Marrakech to Casablanca line would mean we'd miss our train to Tangier. However, the Al Atlas from Marrakech into Casa Voyageurs in Casablanca pulled in right on time.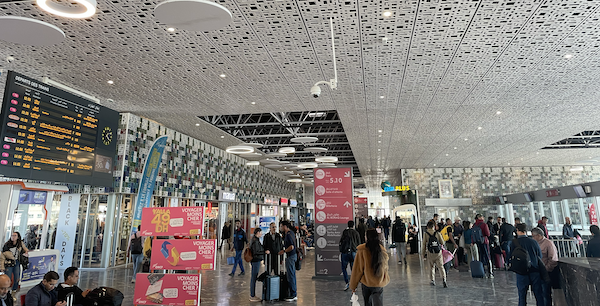 There were only a handful of options for lunch, and we didn't want McDonald's, so we found a french place and got a decent salmon fettuccine meal. Boarding for the Al Boraq to Tangier started about 30min before departure.
The high-speed line was also full, and we got the seats with the most legroom. True to its word, the train got up to about 320km/h on its way into Tangier. We arrived at Tangier Ville station right on time.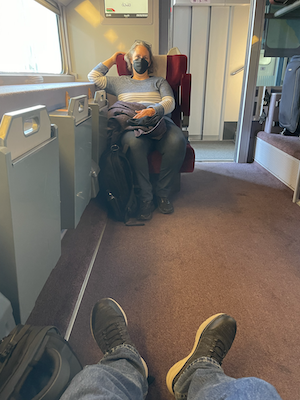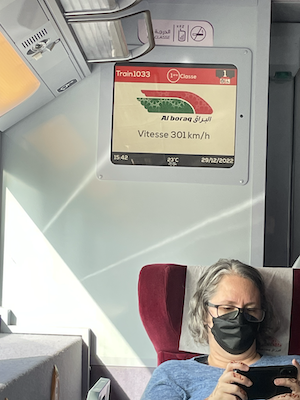 As it turns out, Tangier is a very hilly city. Something I overlooked when I suggested we walk the 2km to the Airbnb we rented for three nights. We arrived exhausted, only to discover the key to the flat we were renting wasn't where it was supposed to be. Apparently, our host owns multiple units, and sent two people directions to the same flat. We arrived to find someone already occupying our space. Once all that was straightened out, we weren't in much of a state to do any sightseeing, so we ate dinner nearby, started our laundry and went to bed.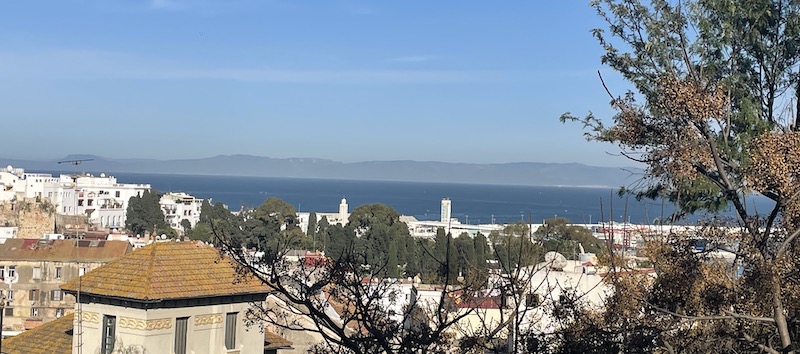 Sojourn to Chefchaouen
The next morning we left most of our luggage and our drying laundry at the flat and took a private car to Chefchaouen. Chefchaouen, also known as the blue city, is off in the Rif Mountains between Tangier and Fes.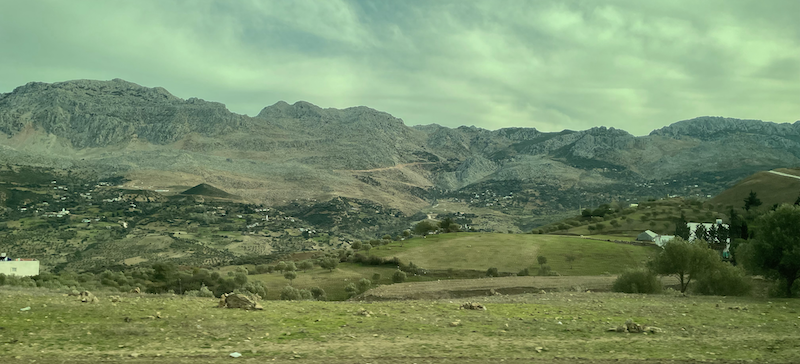 We booked our car via TangierTaxi for about €100 each way. €30 was paid upfront via their website, and we gave €70 directly to the driver. I'm glad we had many Euros left over from our summer trip. While expensive, the private transfer was helpful. The CTM bus schedule didn't leave Chefchaouen till 3 pm, so we'd have been carrying our bags for most of the afternoon. Also, the bus station and the grand taxi terminal are located on the south end of town. Chefchaouen is built into the side of a mountain, so travel is vertical as well as horizontal. The private car dropped us off as close to our hotel as the car could get.
The riad I found on booking.com was the Riad Gharnata. Its booking.com webpage doesn't do the place justice. There were several bookable suites. Our room was off the "salon" it shared with one other room. The terrace had a great view of the Spanish Mosque (which was too much of a hike for us to visit in the 24 hours we had in the city).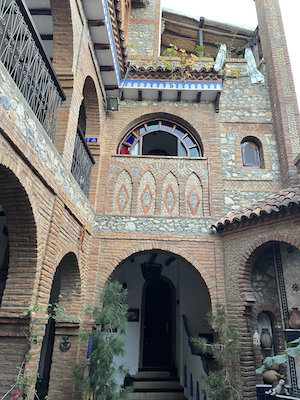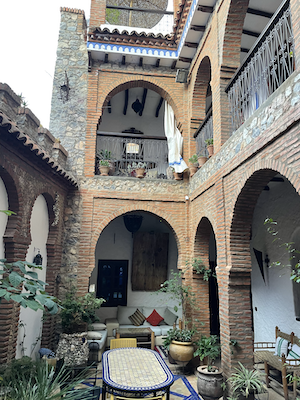 As in Marrakech, we planned to wander the Medina till we got lost, then wander our way back out. We managed to stumble upon the main square where we enjoyed a lovely tagine and kefta, with a local feline inhabitant. We then saw the Kasbah and climbed to the top for the best view of the city. We enjoyed the sunset from the top of our Riad before venturing back out to find dinner. After dinner, I relaxed in the salon reading my book.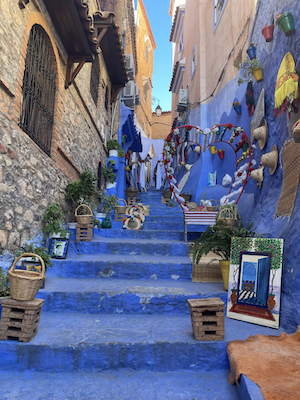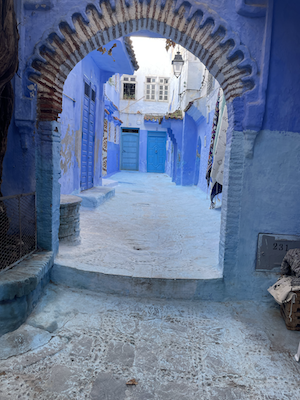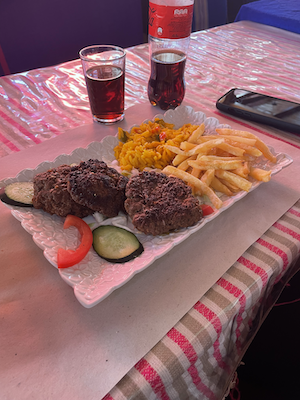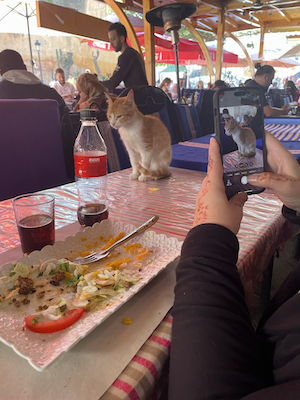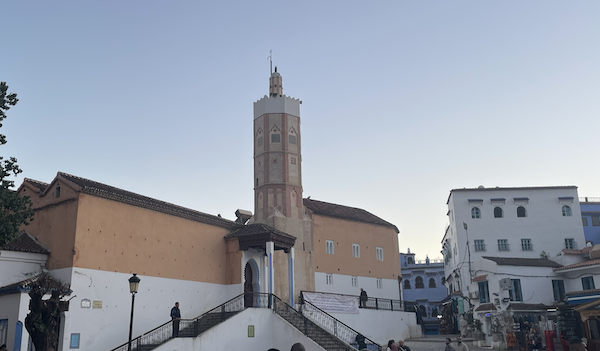 The following day we got up, had a decent breakfast from our Riad, packed, and met our private car for the ride back to Tangier.
New Years' Eve
We arrived back at our Airbnb around 2 pm and took the opportunity to walk around the Tangier Medina. We went back to the Airbnb till dinner to relax. Dinner was at Restaurant Saveur de Poisson which was recommended by our Airbnb host. This is the point in the story where you hear a record scratch and a voice-over saying "you're probably wondering how I ended up in the back of a Moroccan police van with eight SWAT officers chasing an AirTag across the suburbs of Tangier". But that story will be for another day. For now, we'll just say that our Airbnb was broken into while we were at dinner. They left our passports, but they stole a lot of cash, two iPads, my wife's laptop, her backpack, all of our charging cables, both pairs of sunglasses I bought, my deodorant, and my 2021 re:invent 10-year anniversary jacket. We notified the Tangier police, who took the matter seriously - more seriously than I would have expected from American police. We discovered the robbery at 8 pm, and didn't finish at the police station till after 1 am. Needless to say, we will not have a five-star review for Airbnb or SunRise Sky, owners of the flat we stayed in.
Casablanca
Leaving behind Tangier, we got up and got the heck out of the Airbnb as soon as we could. A little after 8 am, we hailed a petit taxi to the train station. Luckily there was a mart open that sold both a USB charger and USB-A to Lightning cables. We camped out at a high table to charge. We were there way before our 11 am train, so we camped out and ate breakfast. At 8 am, when we arrived, nothing but the quick-mart was open, not even the Starbucks. The train to Casablanca left on time, and we arrived in Casablanca and our hotel (Hyatt Regency Casablanca) around 1 pm. It was the first time in 5 days we'd had an American-style bathroom, and after the night before, we were just ready to shower and take a long nap.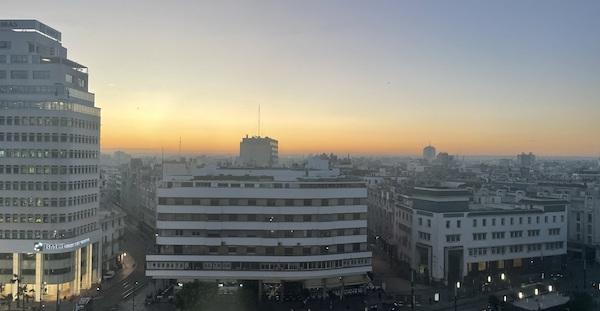 For dinner, the hotel concierge got us a reservation at a nice restaurant on the ocean, and we had a huge, but only ok, steak. The cab driver the hotel requested for us was up to some sort of scam. When he dropped us off at the restaurant for dinner, he wanted to give us his number for the ride home and didn't want to accept payment. Sure enough, he sat outside the restaurant the entire time waiting for us to leave. At this point, we were a bit tired of low-level aggressive scaminess and told him point blank to take us back to our hotel. The cost was 100 MAD each way. We probably overpaid, but it was still inexpensive by western standards.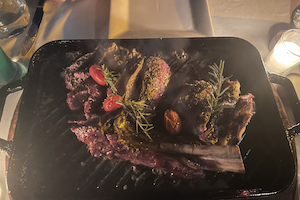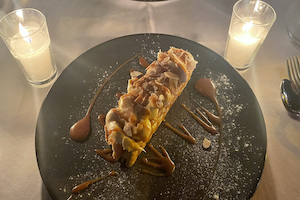 On our last morning in Morocco, we went to the Hassan II Mosque, which is the 3rd largest mosque in the world (after Mecca and Medina) and one of the few open to the public. It was quite impressive, and our guide spoke English, so we understood what we were seeing rather than just seeing it. The prior king built the mosque in the 1980s, so it is pretty young as huge houses of worship go. Like US sports stadiums, it has a retractable roof which they open during Ramadan when upwards of 20,000 people come to pray there.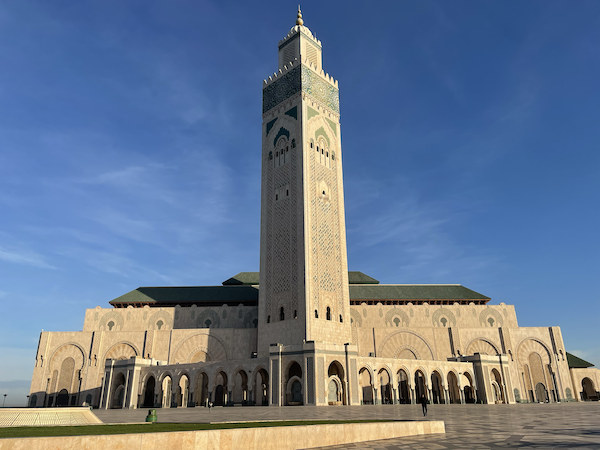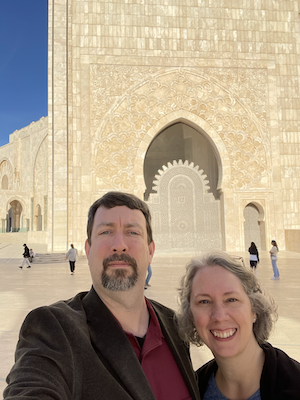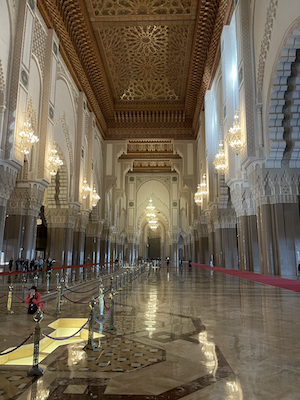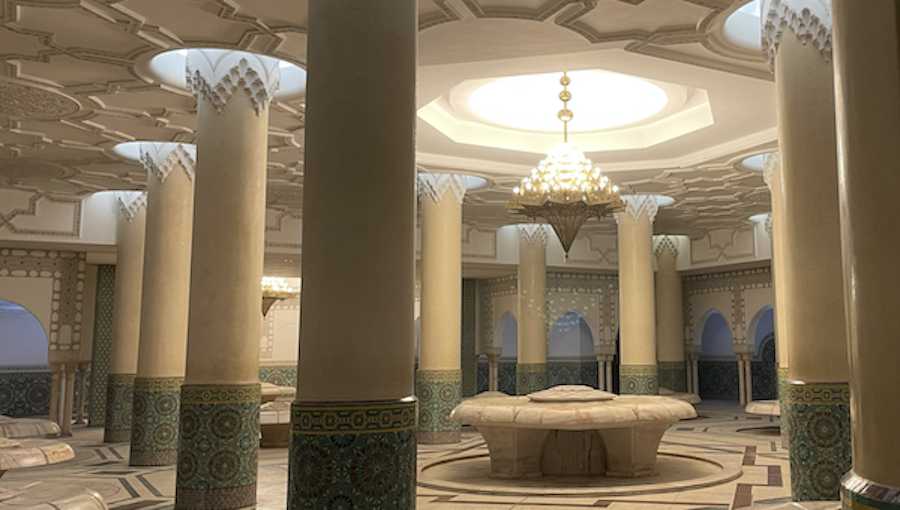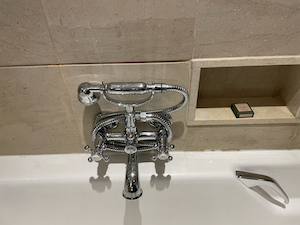 We walked back to the hotel. I thought that Google Maps would route us through the medina, but we only ended up going down several industrial-esque streets. After a brief respite at the hotel ordering a new laptop, we took a Grand Taxi to the airport for 300MAD.
Our Taxi driver asked if we were at terminal one or two, which threw us for a loop, as Air France never told us which terminal. It turns out the terminals are connected, and we found Air France check-in at terminal 2, where we were dropped off.
Arriving to depart at CMN, we had to have our bags scanned before we could enter the airport. Check-in was simple as we were Sky Priority. Since we had an overnight in Paris, we checked our bags through to Atlanta and left a change of clothes in our carry-on. There was a separate security checkpoint and emigration kiosk for Business Class, and our boarding passes denied us getting in the economy line.
Since I was worried we'd still need dirham to get to the right terminal, I didn't exchange at the currency exchange places outside security. We did find that while the shops priced things in Euro, they still took dirham, so we got rid of them by buying some local tea and cookies.
Our AirFrance business class tickets got us access to the Royal Air Maroc lounge, which was on the other side of the airport. But as our flight was delayed by an hour (we found out while in the taxi) we decided to hang out there. As we'd eaten lunch, we didn't partake in the food, but the full-sized cans of coke zero were a nice touch.
Other than the hour-plus delay, the flight was uneventful. We were served a mediocre meal in European Business Class. As best I could tell, it was various hummus, cheese, figs, and a room-temperature chocolate lava cake. The lava cake didn't have much lava and was much bigger than the rest of the meal. The wine was the best part.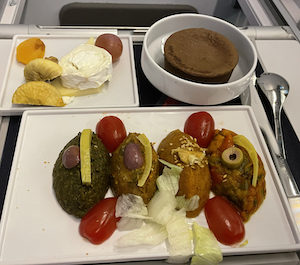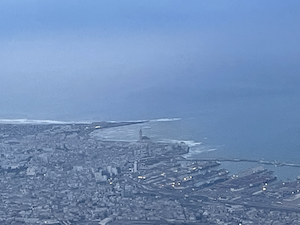 A Pop into Paris
When we booked the flights, we had a layover in Paris. On arrival at CDG, we were through immigration in a flash and at the taxi stand. The taxi to our hotel was €50.60, but we lost all our Euro in Tangier, and the taxi driver didn't want to make change for a twenty, so he accepted a flat €50.
Since we'd never been to Paris, we wanted to make the most of it. Even though it was 44F and my coat was stolen in Tangier, we got up at 6 am to make it downtown. We took the Paris metro from the Porte de Clichy (rhymes with Vichy). That cost us about €4.20, and the ticket machine took credit cards.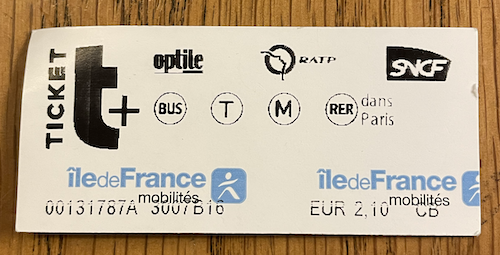 Using the metro was super simple and got us down to the Eiffel tower. We then strolled along the right bank to the Place de Concorde and crossed over to the left bank to the Louvre. That took the better part of two hours, at which point it was time to order an uber to Charles de Gaulle airport.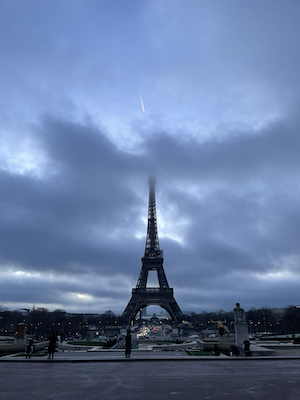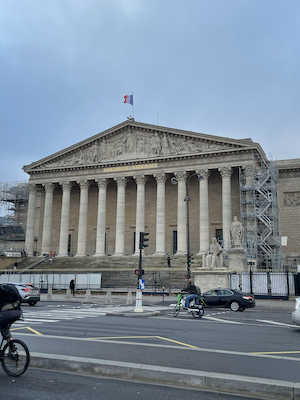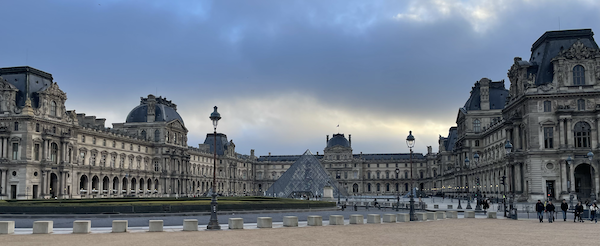 Homeward Bound
Exiting France was pretty simple. We'd checked our bags in Casablanca (and the airtags indicated they made it with us), so we just went through passport control, security, and to the AirFrance lounge.
AirFrance flies one flight a day from Paris to Atlanta. On our outward flight, we were moved because seat 1C was broken. Eight days later, we were moved again because seat 1C was broken.
Getting robbed in Tangier definitely added a sour note to an otherwise good trip. There were a few other things I'd have changed about our itinerary. I'd have booked the private cars to Chefcahouen earlier in the day. Departing at 11:30 and 12:00 had us doing a lot of waiting around in the mornings. We missed doing things on the Tangier coast, like the caves of Hercules, because we didn't have a large enough block of time. While it was exhausting being on our guard all the time, trying not to be rude when the shopkeepers got pushy, I generally enjoyed Morocco and would recommend folks visit. I am glad we didn't bring the kids on this trip.
Postscript 2023-Jan-21 - Airbnb has offered us $500 to offset the cost of replacing what was lost. That's less than half of what we've spent to replace stuff, and doesn't account for the incidentals and stolen cash, but it's still more than we were expecting. We've heard nothing from the Tanger police. ¯\_(ツ)_/¯